Delicious Food Boxes to Transform Mealtimes
If you're looking for an affordable and delicious food box delivery in Ireland, you'll find exactly what you're looking for with HelloFresh. Choose from a range of mouthwatering meals made from the freshest, locally sourced ingredients delivered straight to your doorstep. You can get a food box delivery no matter where you are in Ireland, from Dublin to Cork and beyond.
If you're looking for an affordable and delicious food box delivery in Ireland, you'll find exactly what you're looking for with HelloFresh. Choose from a range of mouthwatering meals made from the freshest, locally sourced ingredients delivered straight to your doorstep. You can get a food box delivery no matter where you are in Ireland, from Dublin to Cork and beyond.
Get the discount directly on the App
Scan the QR code if you are from desktop, or you can directly click on the button below if you are from your phone


Try tasty cuisines from around the world, every week
Each week you'll get to choose from a variety of delicious meals, from traditional dishes like pastas and burgers to exciting fusions such as Korean tacos and 'naanizza'! Our classic food subscription boxes offer a range of meat, fish and vegetarian options, so they're perfect for mostly-meat-eaters and alike. You can also check out our vegetarian meal plan if you're completely meat-free or our calorie smart meal plan if you're looking to reduce calorie intake.
Discover HelloFresh Food Boxes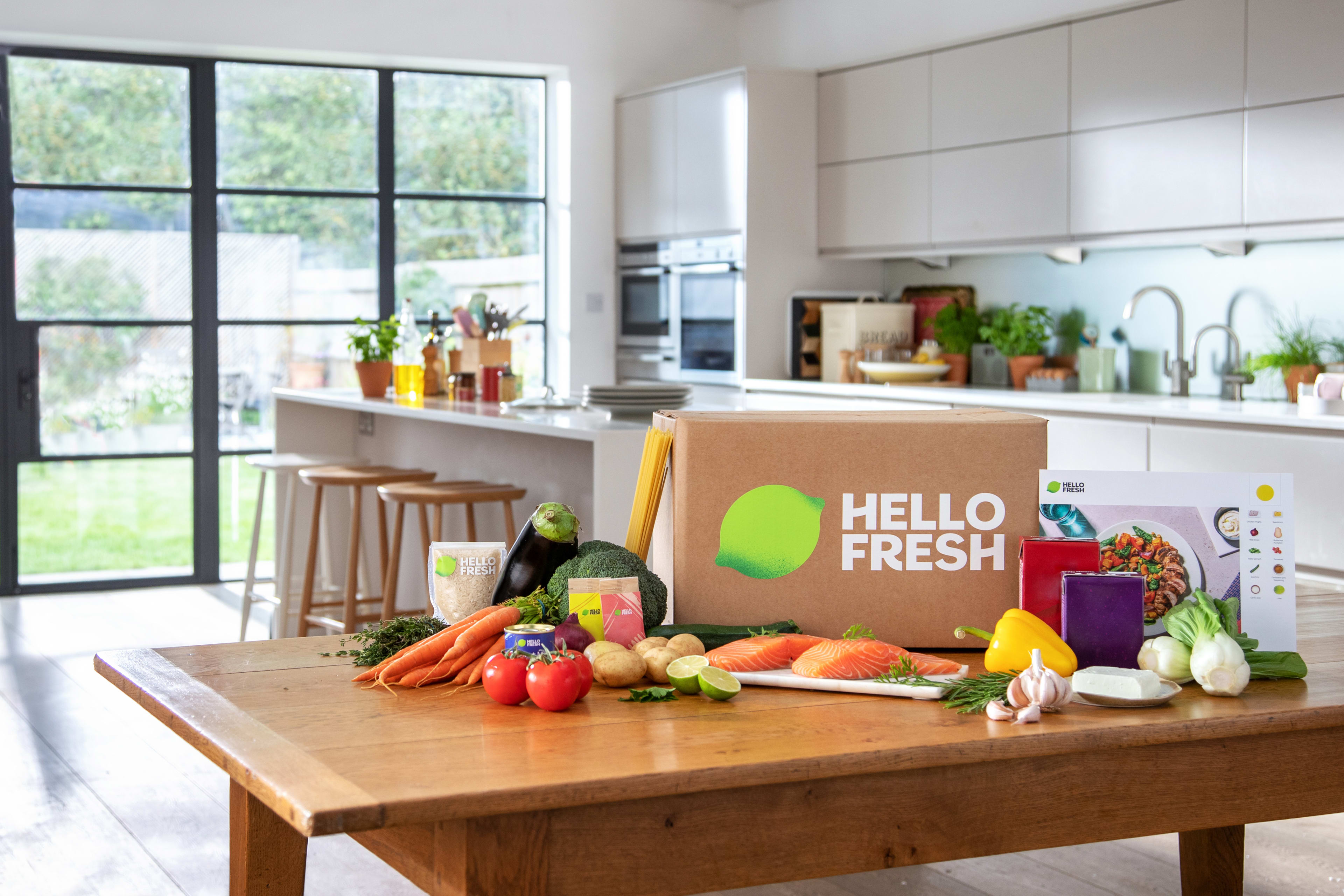 Food box in Ireland: a solution to order fresh food & save time
Get the best food box for a stress-free dinner time with HelloFresh fresh food box delivery. HelloFresh makes dinner time simple with our convenient and delicious, good food boxes. No more long trips around the grocery store, and no more unhealthy takeaway. A food box delivery takes the hassle out of dinner time. HelloFresh meal boxes bring fresh food straight to you.

HelloFresh is a leading food box delivery service that delivers fresh, pre-measured ingredients so you get exactly what you need, and no food gets left behind. After all, a good food box is one that saves you time, money, and waste. When you order food boxes from HelloFresh, you get to customise your box to your needs. You select what types of recipes best suit your needs, whether you are looking for quick recipes to prepare in under 30 minutes or delicous meals low in calories but packed full of flavour. We offer meal boxes for individuals, couples, and families of 4. HelloFresh makes dinner fresh and simple, with a food box delivery in Ireland you can rely on.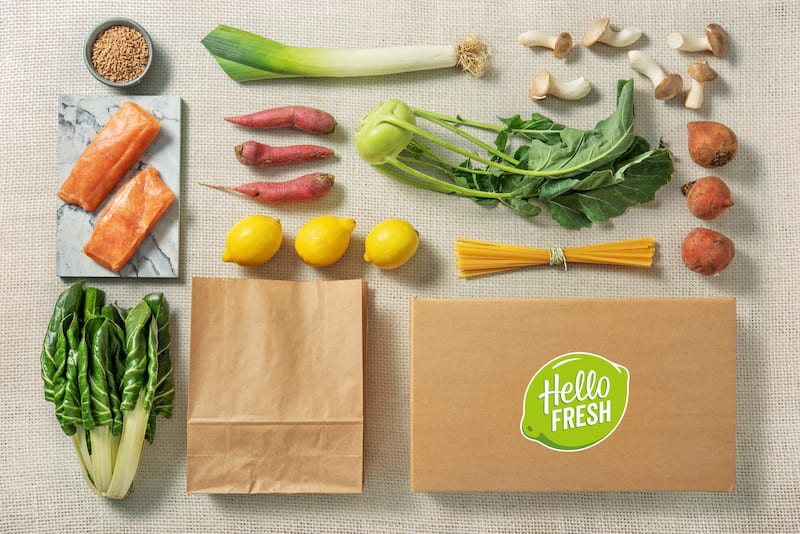 Affordable and convenient food boxes
HelloFresh offers the cheapest food boxes in Ireland, so you can get fresh ingredients and delicious, chef-designed meals every week. You can choose from a range of tasty recipes, enjoy new ingredients and try out cuisines with every one of our meals, so you'll never get bored. Not only this, but all of our plans are set at the same price each week, making budgeting easy. You won't need to take as many trips to the supermarket or waste money on excess ingredients, as a food box from HelloFresh makes meal planning easy and affordable.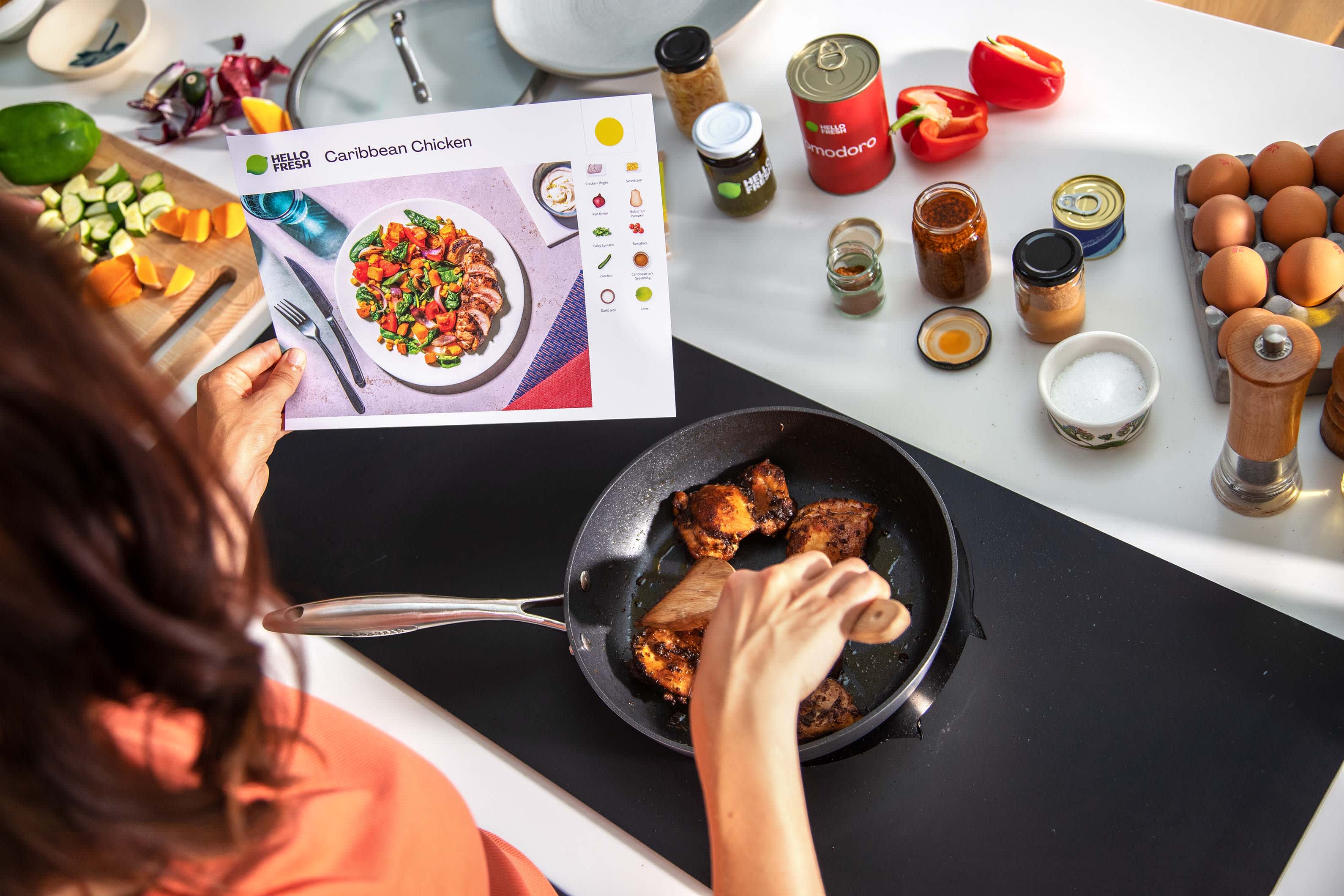 What is a food box?
A food box is a food delivery box that brings fresh ingredients to your doorstep, instead of you having to hand-select ingredients in a physical store. With food box delivery, you can identify the recipes you want online, and get the ingredients you need, in the exact amount your recipe calls for, delivered straight to you. A fresh food box is a convenient, cost effective, and sustainable alternative to supermarkets and other traditional food-buying solutions.

Our food boxes put you in control of what goes onto your plate — so you can feel inspired each and every dinner time. Featuring recipes from around the world alongside a bunch of family favourites, you'll find plenty of tasty choices suitable for everyone in your meal box. Whether it's the Family Plan offering meals for four people, the Classic Plan that brings you varied recipes with meat, fish and seasonal vegetables, or the Veggie Plan that's made for plant-based diets, our food box delivery keep things fresh.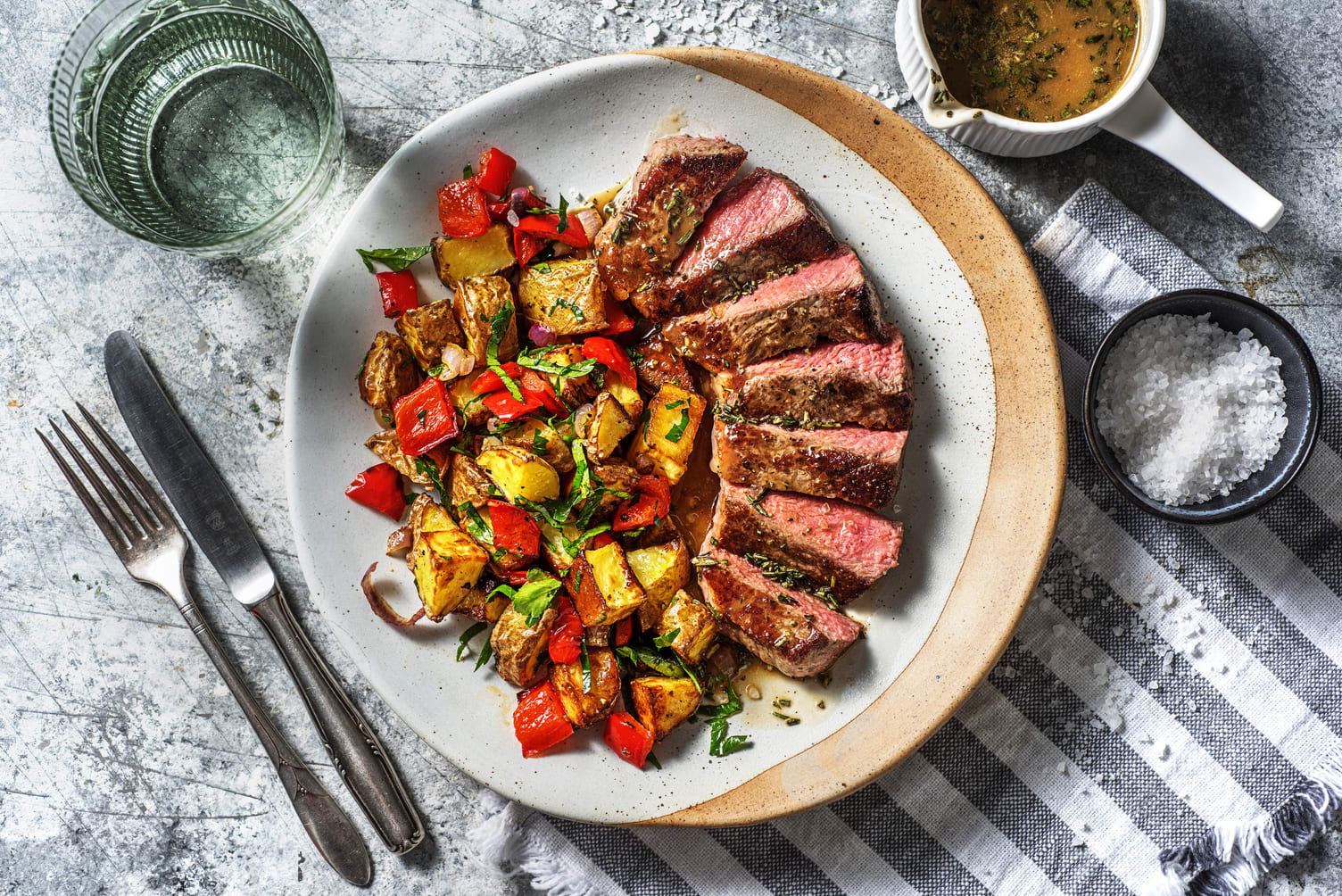 What's in our food boxes?
HelloFresh brings a fresh food box to your table whenever you need. Our meal boxes feature fresh food ingredients sourced from our trustworthy suppliers. We order each ingredient directly from our producers. You can have peace of mind knowing that, when you order a meal or dinner box from HelloFresh, your groceries will be delivered right to your home, without any stops. We prioritize high quality, fresh ingredients that are locally sourced. We are committed to integrating regional and seasonal produce into our fresh food boxes by supporting sustainable fishing, animal farming and agriculture.

Filled with the freshest, best quality ingredients to cook delicious recipes at home, HelloFresh's food boxes delivered to your door are the best way to rediscover your inner cook. Simply choose your favourite recipes from HelloFresh's weekly menu, choose a delivery slot that suits you, and get cooking!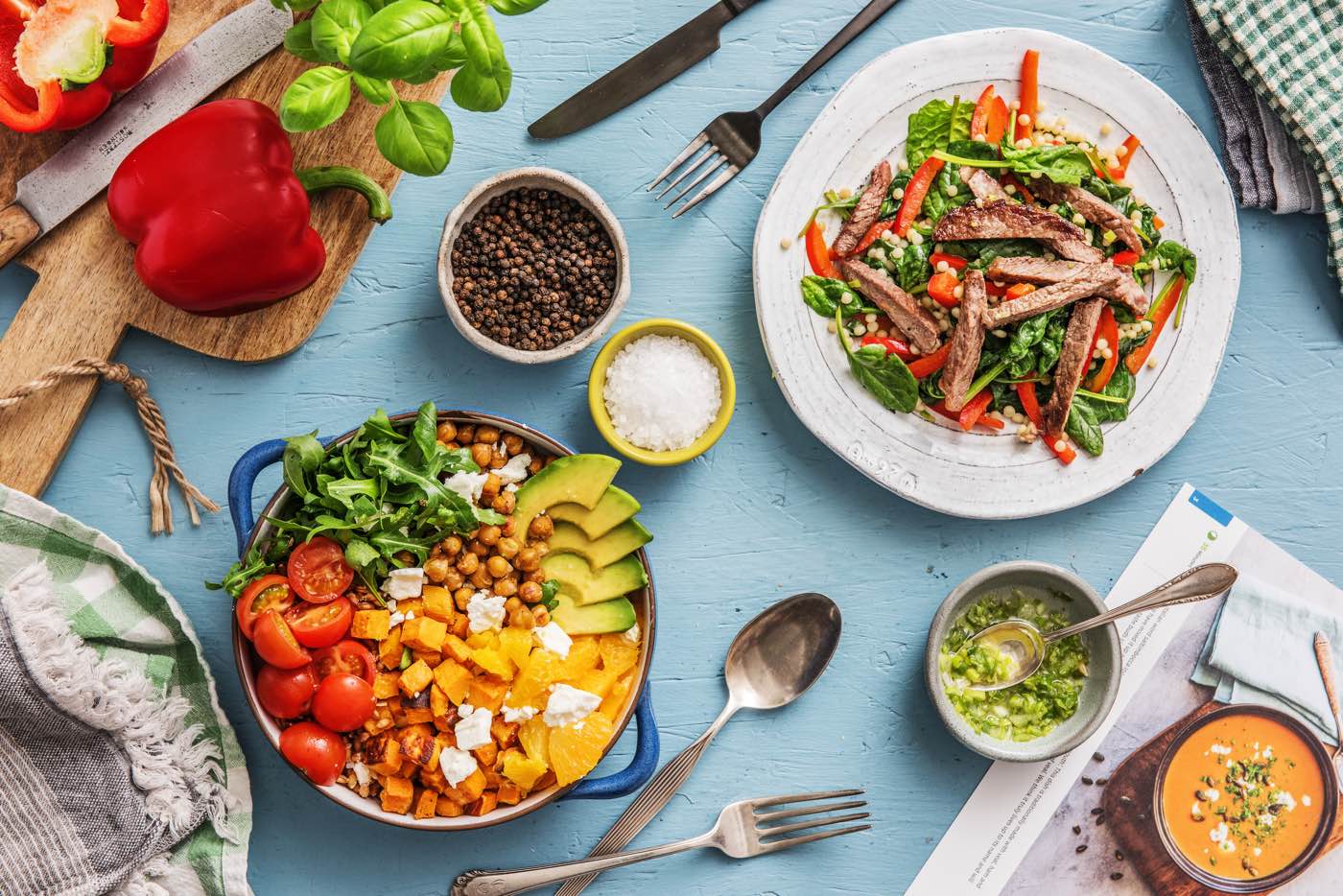 Cooking fresh, delicious dinners has never been easier
All HelloFresh meal plans are designed to make life easier. Get your food box delivered to your door every week, with all the fresh ingredients you need to whip up tasty midweek meals. All ingredients are pre-portioned so that nothing goes to waste, while our easy-to-follow recipe cards are made up of just a few simple steps. You'll have full control over your meal plan too, so you can pause, skip and amend when you need to.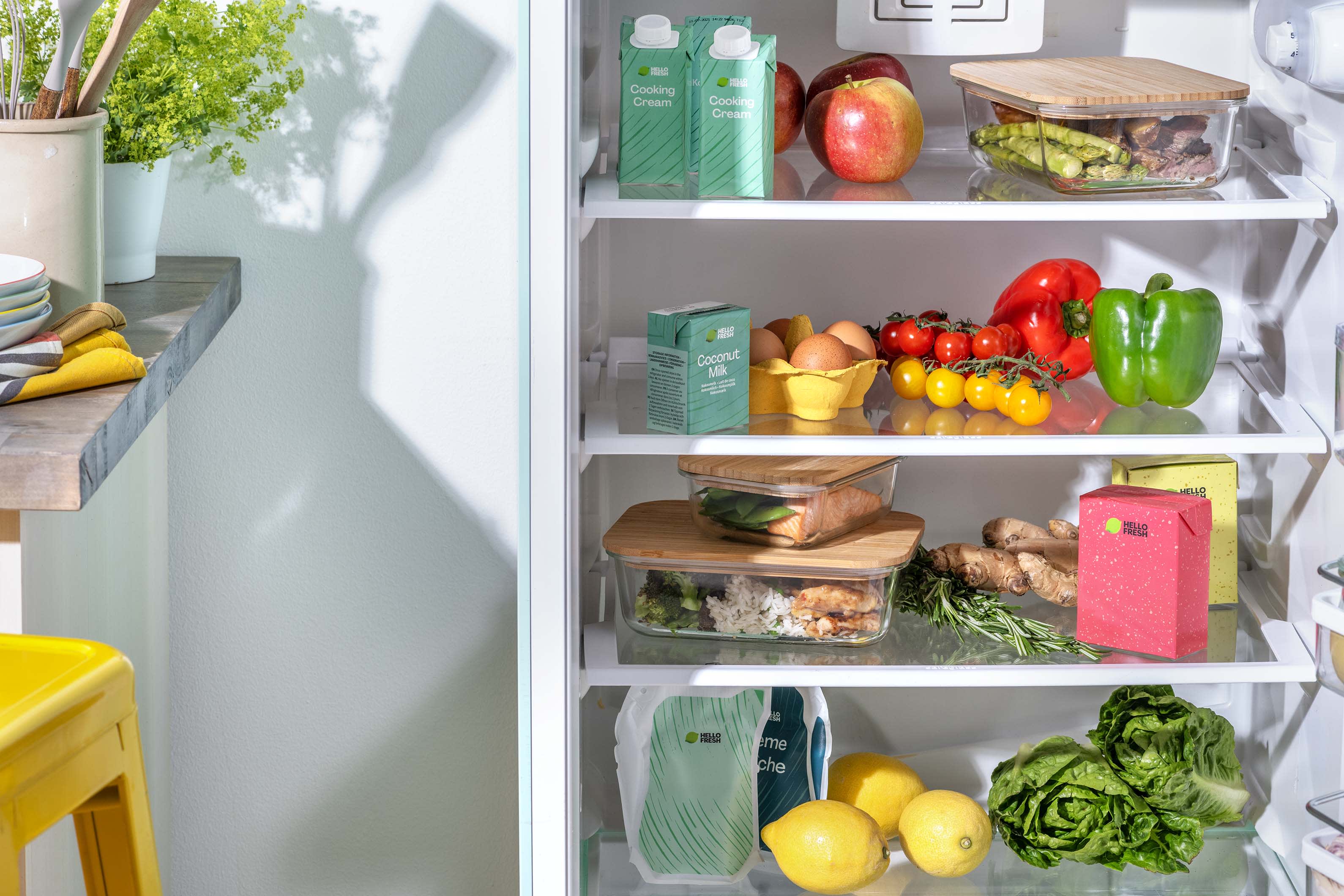 Locally sourced ingredients, including 100% Irish chicken and beef
It should come as no surprise that we're big on freshness here at HelloFresh Ireland. But did you know we're also committed to supporting local farmers where we can? That's why all of the chicken and beef in our food boxes is 100% Irish, sourced from our trusted suppliers. You can rest assured that our veggies, fish and dairy products don't travel far either, as they're sourced from both Irish and British farms.
What kind of recipes do you like?
Select from the categories below. You can always change them later!
Save & view plans
HelloFresh: the first global carbon-neutral food box company
Our commitment to fresh food boxes starts with fresh ingredients and includes to our commitment to sustainability. Our ingredients are sourced directly, saving on transport, storage, and waste. We are proud to be the first global carbon-neutral food box company and remain committed to offsetting 100% of our direct CO2 emissions. We provide exact ingredient portions in our meal boxes to reduce waste, so that your food remains on your plate, and not in the garbage. When you choose a HelloFresh meal or dinner box, you are cutting your food waste by up to 36% with every meal. We maintain sustainability with our food boxes ingredients, utilizing eco-friendly packaging for our meal boxes and reducing transport packaging waste. A good food box is one that prioritizes freshness and sustainability without sacrificing convenience.
Learn More About Our Food Boxes

Do HelloFresh meals come with meat?
Yes! Our classic boxes come with all the meat, veggies and flavours you need to cook the delicious meals you've chosen.

What kind of meals do HelloFresh do?
HelloFresh food boxes include a wide variety of meals, including cuisines from around the world, veggie, fish and meat options, plus a mix of traditional dishes and our very own HelloFresh creations.

What do you get in the HelloFresh food box?
In our food subscription box, you'll get the pre-portioned ingredients you need to cook the recipes you've picked for that week. You'll also get easy-to-follow recipe cards that you can save for later too.

How much does the HelloFresh food subscription box cost?
The price of a HelloFresh food box is €41.00 for three meals per week for two people. If you're new to HelloFresh, you can also get a discount on your first order.

Do I have to have a food box delivered every week?
No need! It is a totally flexible subscription, so you can decide to pause deliveries from your computer, tablet or through your HelloFresh app. You're in control.

Are the food boxes delivered to my home?
Yes. HelloFresh can deliver your food box to any address in Ireland that you decide. We deliver all across the Republic of Ireland, including smaller towns across the nation.

Am I tied into a long contract with HelloFresh when I buy a meal box?
Absolutely not. A good food box won't trap you. With HelloFresh there's no long contracts and you can cancel at any time from within your online account. If you want to begin receiving the best food boxes in Ireland once more, then simply click the "Reactivate Now" button and we'll start packing your good food box right away! It's quick, simple, and always convenient.